Let me introduce you to a new friend, Joy. You may remember at the end of a blog post at Easter this year, I mentioned how we all were heading to volunteer for Easterfest in Toowoomba. Well, Joy was in charge of a lot of different stuff, and gave me the task of heading up the social media side of things. We hit it off as soon as we met in pre-planning stages, when we found out we both had a love for antique/vintage and she is in the process of renovating her house. So about half of our planning meetings were taken up with me sharing furniture painting tips, and introducing her to the world of antique style painted furniture using Miss Mustard Seed's Milk Paint.
Joy was keen to paint some furniture, so before we travelled to Toowoomba, she put in her order and I brought her first "stash" of MMSMP, including Hemp Oil to use as a finish. So here are some progress shots she posted on Facebook to show how she was going with it all. She started with this old dresser:
Sanded it back with a plan to feature the nice wood top and paint the rest:
Close up of the sanded wood top: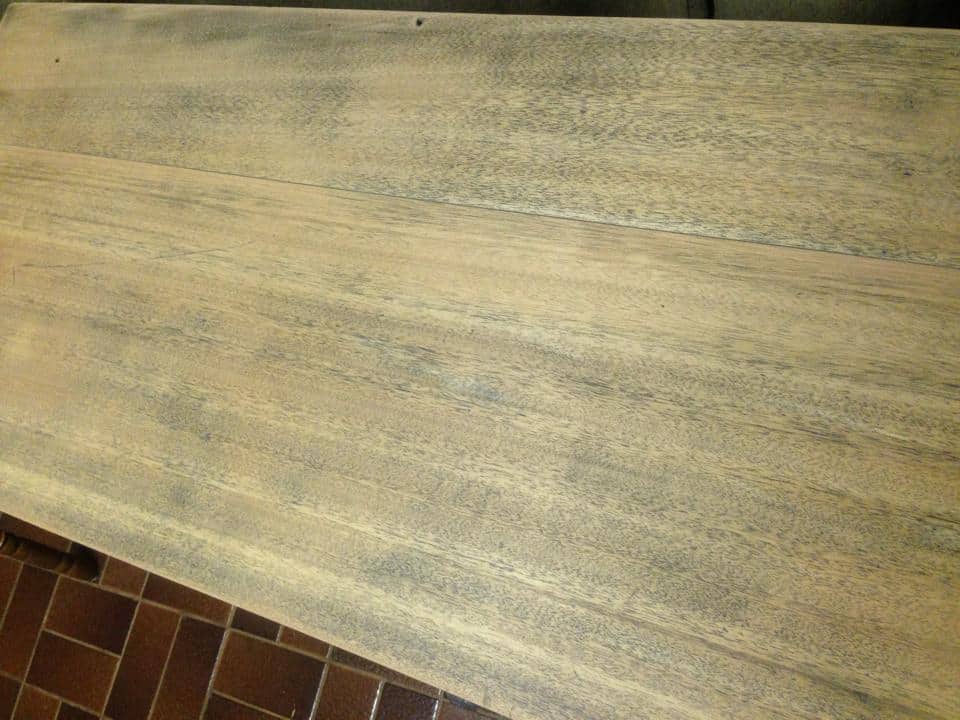 Here it is after a few coats of Miss Mustard Seed's Milk Paint in Linen colour, and sanded to give a little distressing and revealing some of the underneath wood.
Look at the difference when you add the Hemp Oil finish (below). So rich! Here's a little more about Miss Mustard Seed's Hemp Oil:
This solvent-free oil finish provides a protective, water-resistant surface.  Use on new wood that is bare, stained Milk-painted or to revive old wood finishes.  It penetrates to protect from the inside out.  Does not leave a surface film that will chip or scratch.  This food-safe oil finish is perfect for use in the kitchen on wood or stone.  Used outside, it can restore the lustre of old oil based paint or revitalise surfaces such as cast iron.  Test on an inconspicuous spot prior to using on an entire piece.
Did you notice she was missing a drawer knob on the original piece? Don't these new ones look great? You can purchase similar drawer cup pulls on my online store HERE.
Hasn't Joy done a fantastic job? For her first time ever using Milk Paint, to restore this dresser, was a big task and the results she got were amazing. Look at the aged paint finish where the Milk Paint naturally chips away, sometimes with a little help of sandpaper for a smoother finish, and to prevent further flaking or chipping. Looks perfectly antique!
If you're interested in using Milk Paint and have been hesitant to try it, I hope you've been inspired by Joy's first attempt!
I sell Miss Mustard Seed's Milk Paint products in my online store if you click on the "Products" tab above. Or click HERE. (Australian orders only) For more retailers in USA, Canada or Europe, click HERE.
Side note: Hemp Oil isn't the only option in MMSMP finishes for your furniture. Click HERE for a range of our different furniture waxes including Antiquing Wax and White Wax. There are so many different options to finish your special piece.
Don't forget if you're in the Brisbane/Gold Coast area, I do MMSMP Workshops to show you a whole range of options and techniques for using Miss Mustard Seed's Milk Paint products. Email me at sharonhankins3@gmail.com if you are interested in a workshop.
We are authorised retailers for Fusion Mineral Paint and Miss Mustard Seed's Milk Paint in Australia. This blog post may contain affiliate links.