When my Aunt, Jenny Regeling, from French a la Beach Furnishings on the Sunshine Coast QLD, told me about a new product she had come up with and that she'd been working on it for a year, I nearly flipped out thinking – This is fantastic, why haven't these already been invented yet?
But first, let me back up a few years to when I first started restoring furniture. My Aunty Jenny was my inspiration. I saw some of the work she was doing transforming pieces of furniture into shabby chic style pieces and was suddenly inspired to try something similar on a pair of bedside tables I had in our guest room. The rest is history – I was hooked, and I've been restoring and up-cycling furniture ever since.
So here's the product you may have already seen me talk about on my Facebook page:-
Sandi Hands – The handy glove that sands.
Jenny wanted to produce something that would assist people like her, who suffer from arthritis, making sanding a whole lot easier. The sanding glove has been so well received already by so many people, not only in the furniture restoration business, but in other industries as well. Such a great option for anyone with mobility restrictions in their hands.

The gloves come with an 80 grade and 120 grade sanding hand, which is placed on the velcro area of the glove. Refill packs are available, and both gloves and refill packs come in left and right handed gloves.
The Sandi Hands glove is pretty straight forward to use, but these helpful hints (also on packaging) will make sure your gloves last a long time. The glove itself is made of cotton and very comfortable to wear. 
Once you have your glove on, place the sanding hand on your palm first, then apply each finger.
So lets get into sanding something … here's a very old side table, needing an all over sanding. I got straight into it with the Sandi Hands glove and it felt so natural to sand back and forth on a flat surface with your hand. The other great thing was not having the piece of sand paper flying out from under your hand or losing grip on it while you're sanding.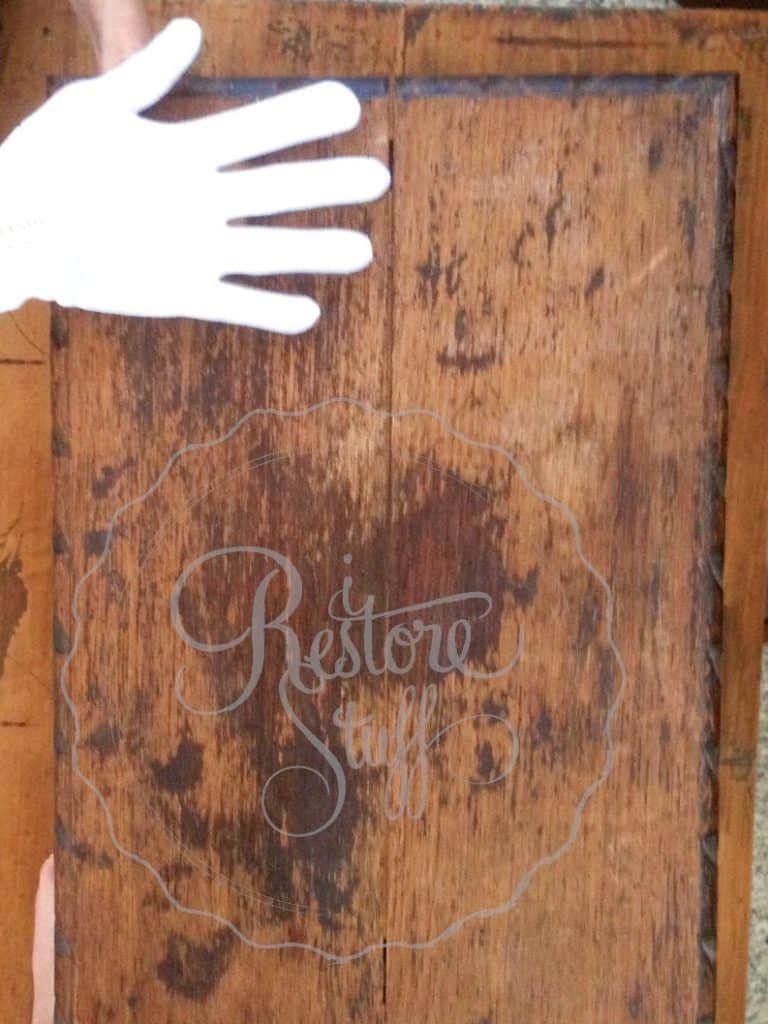 I used individual fingers to sand at times, like on these parts near top of the legs. I can't believe how good it feels to just use your fingers without having to hold a piece of sandpaper and risk wrecking your hands and nails from the scratching of sandpaper.
One of the best things about these gloves is the ability to get around curved surfaces like these spindly legs:
You can see here how easy the old surface comes away:
Jenny recommends removing the glove first, before then removing the velcro sandpaper hand from the glove. You can change between sandpaper grades easily this way. Sandi Hands has two grades available at this stage, but will soon have more grades available to choose from.
I am pleased to announce that I will be selling Sandi Hands gloves on my online store. You'll find them in the Product section under Accessories.
If you're a retailer and interested in selling Sandi Hands in your shop, please make enquiries via the Sandi Hands website:
On her site you will find other retailers who are now beginning to add Sandi Hands to their product lines, including Mitre 10 stores on the Sunshine Coast. This list is growing, as the word gets out. Jenny and the Sandi Hands team have plans to improve on the product by adding more varieties of options to things like sandpaper grades, glove grades, etc. so stay tuned for more info on her Facebook page.
PS.  This was not a paid promotion or post. All opinions are my own. I received a pair of Sandi Hands gloves to trial, and wanted my readers to know about this amazing product.