Introducing Jennylyn's Natural Nursery, Tones for Tots
We are so excited about the release of Jennylyn's new Tones for Tots Collection in the Fusion Mineral Paint range. What is not to love about these adorable colours!
There are Seven Adorable Tones for Tots Colours to Choose from:
Tones for LOTS, not just Tots!??
I can't help sensing that these won't just be tones for "tots" but tones for LOTS … cuz I am in LOVE with this blue …
I love it so much that "Little Teapot" was one of the colours I chose to use when asked by Fusion Mineral Paint if I'd like to blog about their new collection.
Our four children have all grown well and truly past the nursery stage, but there was nothing stopping me from doing a little digging around the house to see if I could find items to suit this pretty pastel range.
Memories of our toddler era!
Now would ya look at that! A toddler chair made by my father-in-law when our first born was a toddler. Such a cute little chair that has held each of the kids as well as several teddy bears, dolls and other stuffed animals over the last 20 years.
Grammie had even painted Jordan's name on it, along with some cute animal stencils along the sides.
And so I thought it was time for a little sprucing up, ready for the next generation to enjoy whenever that time comes …
So here it is all roughly sanded back ready for it's Tones for Tots makeover.
Here we go with that beautiful turquoise blue – Little Teapot, it's called.
And here it is after two coats of Little Teapot. You may see a slight variation in colour between photographs I've taken, depending on lighting at the time.
Let's add some of the kids old toys that have been stuffed up in the top of the cupboard longer than any of the Toy Story toys EVER were!
Another "Little Teapot" project: what would you use this door for?
I picked up this narrow cupboard door from a garage sale for $5! I knew I had to paint it with Little Teapot … but I'm still not sure what I'll do with it. Any suggestions? Maybe some hooks?
I gave it a light sand all over as the existing paint seemed a little glossy.
A-DOOR-ABLE, right??!
I'm so excited about this whole range, and couldn't help setting up a little area in my workshop just for Tones for Tots: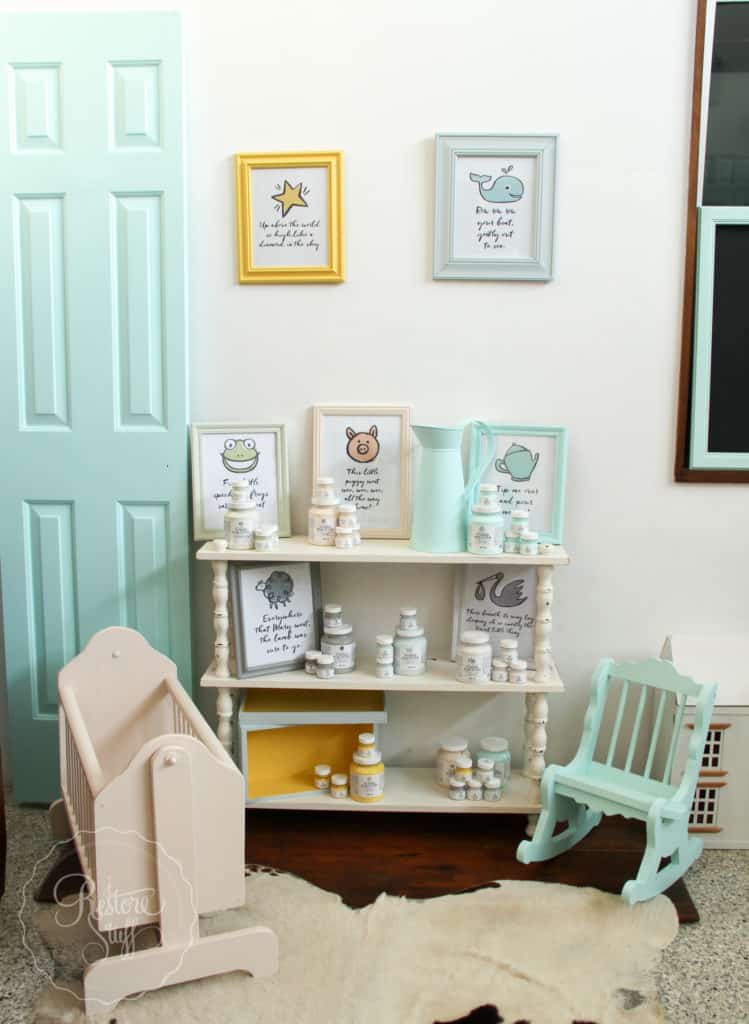 We'll have the whole range up on our website and for sale in my workshop from May 28th 2016.
Oh, and see that painted pitcher/jug below? – yes, I painted metal. Just so you know you, you can paint almost anything with Fusion Mineral Paint. After painting it in Little Teapot, I realised when I put it next to the display that it kind of, sort of looks a little teapot-ish?! Well, I'll tell myself that anyway.
ZERO VOCs and All the Safety Stuff!
There is another MAJOR plus for this range – as Fusion always places a high priority on safety, and using all natural products with no VOCs, they have gone all out to produce and nursery friendly product, with all the necessary certifications.
Founder and creator, Jennylyn Pringle says:
"We know you want the best for your little one. At Fusion™, we want the same.
We at Fusion™ wanted to develop a paint that was TRULY zero VOC and non-toxic for you and your loved ones. Through years of development we have achieved this without sacrificing quality and durability. Fusion is a best-in-class paint that features an environmentally and health conscious formulation.
Babies and young children are more susceptible to the health risks associated with VOCs. Our Paint is lead free, phlalate free, formaldehyde free, ammonia free, virtually odourless and is Zero VOC.
Fusion cares about you and your wee ones. Our Tones for Tots collection complies with both the lead and phlalate restrictions of the Toy Safety Standards of North America and Europe, as well as the ASTM D4236 LHAMA safety labelling requirements."
1. CPSIA Act of 2008- Section 108 – Pthalates
2. ASTM D-4236 -Confirming that the products have been properly labeled, and there is no chronic health hazard, in accordance with the federal Labeling Hazardous Art Materials Act (LHAMA)
3. CPSIA Section 101 – Total Lead In Paints & Surface Coating
The awesome thing is, that Fusion has this same formula for ALL of their Fusion Mineral Paint colours, however, the Tones for Tots range has undergone the necessary paperwork and testing to add the required labeling specifically for this range. Because of this, the Tones for Tots range is set at a slightly higher price point than the regular colour range.
Do you have a favourite colour?
Let me know in the comments, what would you paint? What colour would you choose? Would you use these colours JUST for tiny people, or would you indulge yourself and your home space too?
I'd love to hear your thoughts.
Happy painting,
Sharon.
PS. I'd love you to Pin this post using this image: