When I first picked up these two pieces of furniture, I didn't even know they were a matching set! The smaller bedside had the handles that are in the picture above, but the large dresser had some plastic handles that looked totally different. It looks like the dresser had begun to be repainted by a previous owner, but not completed.
So the sanding began …
There were layers of history caked up on this smaller bedside:
Dresser is back to wood on the top. I'm not so worried about sanding back the base and back as I'm painting over them.
The hard part was getting all the old paint out of the grooves. I tried some stripper and a scrubber, then finished off with sandpaper in the grooves.
The bedside cupboard had all the purple paint going on – that was painful to get out!!
I wiped down both wood tops with a wet rag to remove all the sanding dust.
When it was all dry, I finished off sanding with the finest grade Sandi Hands Sanding Glove removable hand grit (400 grit). This gave the most silky smooth finish to the tops.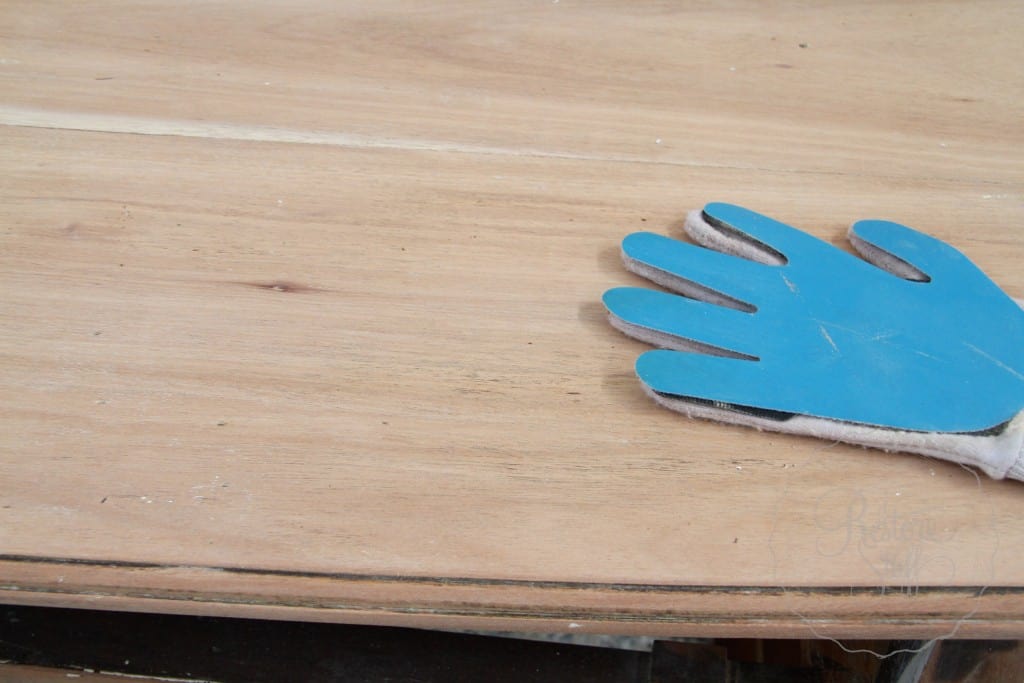 All ready to stain …
For staining, I love to use Miss Mustard Seed's Milk Paint in Curio for a rich walnut colour. Using 1 part paint powder to 3 parts water, it creates a wash effect or stain where you can still see the wood grain:
After brushing on to the surface, remove excess stain/milk paint with a cloth for an even surface colour.
Here's what the surface will look like as it is drying. It can often have a chalky gray appearance. Don't panic, once you apply the wax or hemp oil finish, it will come up a beautiful colour again.
While the drying process was going on with the wood tops, I selected this beautiful Fusion Mineral Paint colour for the base of the furniture, and I used Lamp White for the drawers and inside of the cupboard. It's a minty pastel green. I could eat it, it looks so fresh and yummy!
Fusion Paint comes in 24+ colours and is available in these 500ml pots or 37ml samplers.
Here's the first layer going down. Fusion paint gives really good coverage. This set was a little patchy, so I know I'll need two coats.
Here's two coats: (I know, looks a little blue, but it's just the lighting at night)
Next we move on to oiling the lovely wood tops with Miss Mustard Seed's Hemp Oil:
Sometimes I apply the oil with a clean rag or Chux wipe, this time I used a brush. Apply in nice even strokes over the dried surface. Wait a few minutes, then remove the excess oil with a clean rag, moving in strokes along the wood grain.
Here's the large dresser after first applying the hemp oil with a brush:
And here it is after wiping down with a cloth after a few minutes:
After leaving the surface of hemp oil to soak in over night, here is the result:

Notice the difference in the two colours of the wood in the above pictures? This is about the time I had a "DUH!" moment and realised that these two pieces were actually a matching set. But because I didn't know that before, I had planned on painting these two pieces in totally different colours! I also chose to make the bedside a darker wood on top, and I diluted the curio colour mixture down to create a lighter wood for the dresser. I still can't believe I didn't see that they were a matching set, seriously … Now that top colour difference was really going to annoy me …
On to painting the dresser – and look at that patchy paint – yep, going straight over it. Sorry to all you perfectionist painters out there.
I taped over the oiled wood to do the backboard of the dresser and covered the top with a cloth to avoid speckles of paint on the nicely finished wood work.
The drawers received two coats of Lamp White (Fusion Mineral Paint). Its a very soft white with greyish undertones.

Inside of the bedside cupboard is Lamp White also.
Next, I tackled the drawer handles. These were the ones that came on the little cupboard, and I found the exact type at our local hardware store, so bought another 6 for the dresser drawers – now that I knew these were a matching set … (still can't believe I didn't see it).
After cleaning them up a bit with a scourer and a light sanding, I painted the wood part with the Laurentien colour.
And used Fusion Mineral Paint's Copper Gilding paste to paint over the brassy handles. The gilding paste is a high viscosity sunflower oil saturated with pigment. It hardly has any odour because of the natural ingredients. It comes in Metallic Bronze, Metallic Copper, Metallic Pale Gold, Metallic Silver, and two accent colours; Antiquing and White. I applied with a brush in this case, but most times you can apply a thin layer with a cloth to highlight areas and details on furniture & decor.
I usually tape down around mirrors with newspaper and painters tape. I know some people prefer to go around the edges and scrape paint over spill with a putty knife, but I find this easier and a cleaner finish.
Almost there – and you know that colour difference in the top was still bugging me, so I ended up sanding back the dresser top again and re-coating with equal parts of stain to match the small bedside. So much better, and my mind can be at peace again.
All finished and ready for someone's bedroom! This will be for sale, so if you are in the Brisbane/Logan/G Coast area and interested, please email me.
I was really happy with the way they turned out, and just for the record, I still have about half a jar left over in the 500ml pot of Laurentien that I opened to start this project! I just needed the two coats. I'm impressed!