A Solid Silky Oak Australian Antique Dresser
This silky oak dresser came to me via a lady on the Gold Coast who wanted to get rid of it, and contacted me to see if I'd like to restore it, since she had intended to, but no longer had the room or the desire to restore it or paint it herself any more. I've since lost contact, so if you are reading this and this was your dresser – I know you wanted to see it all painted and pretty again, so here it is!

The dresser was in good condition, but needed repairing and gluing in a few spots to hold everything together in a more stable manner.
I also removed all the hardware and the mirror, before sanding down the main frame of the dresser using my Sandi Hands glove with about a 240 grit, just to give some tooth to the old varnished surface.
The Silky Oak Drawers
I sanded the drawers completely back to raw wood using my orbital sander with approx a 180 grit to start with then moved on to a 240 grit and eventually using my Sandi Hands Glove right up to a 400 grit for a smooth finish.
I wanted to show off that beautiful silky oak wood grain using Stain & Finishing Oil in Natural which is clear. Here's a pic of the drawers – the left drawer is dry, bare wood – the right drawer is with the SFO (Stain & Finishing Oil).
Here's the Time Lapse Video
To give you a quick look at how I painted this from start to finish, here's a time lapse video of me as I painted two coats of Miss Mustard Seed's Milk Paint in their newest colour, Aviary.
You can see a more detailed (and slower) demonstration of how I mix the milk paint in another video which I'll add at the end of this post.
Waxing
As mentioned in the video above, I used Miss Mustard Seed's clear Furniture Wax to wax the entire main frame of the piece, and mirror frame after lightly sanding all over the Milk Painted sections. I love the smooth buttery feel of the wax during application, and the fact that it has no potent odours while using it. It has quite a natural smell, which is not unpleasant to work with at all.
Need more details on Mixing, and Using Miss Mustard Seed's Milk Paint?
I filmed a live Milk Paint 101 Demo earlier this year, showing you exactly how to mix milk paint to a perfect consistency for painting, and how to use Milk Paint as a stain, and more! Here's the demo:
I hope you enjoyed that makeover! Here are some pics of the finished piece …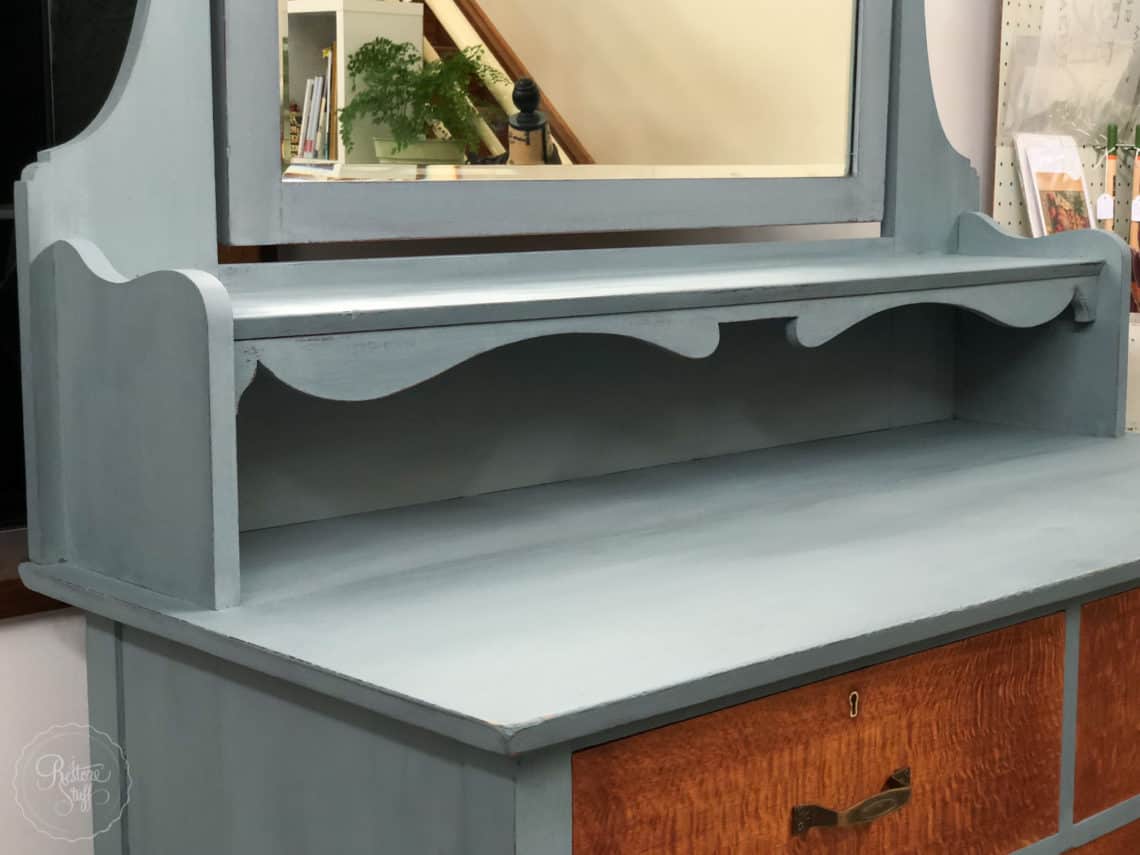 For more Miss Mustard Seed Milk Paint tutorials, head over to my Youtube Channel or search Milk Paint in the search bar at the top of this page.
I'd love you to pin this image to your Pinterest board so that others can enjoy this post too:
Happy painting!
Sharon.
PS. I linked up this post to Finding Silver Pennies Sunday Link Party …