Description
Champagne Gold is a much softer paper gold, more sophisticated and modern. Think of it as the updated cousin of that timeless classic gold, where you don't want as much of a traditional darker gold depth but rather something that feels a touch light and airy.
This metallic paint is self leveling with the same consistency and coverage as our fabulous Fusion Paints to give you a smooth metallic finish on any surface and comes in 250ml containers and a 37ml tester size.
The metallics come in these colours:
Champagne
Brushed Steel
Pale Gold
Bronze
Copper
Pearl
Vintage Gold
Champagne Gold
Rose Gold
Metallic Paints are ideal for larger painting projects as they have a less textured, and more self-leveling finish than our Metallic Tinting Kits.
Examples of projects using Metallics:
Nightstand via Lost & Found Decor
Jewellery Tray via Q is for Quandie
Silver Accented Chest via Home Road
Brushed Steel Coat Tree via Bliss Ranch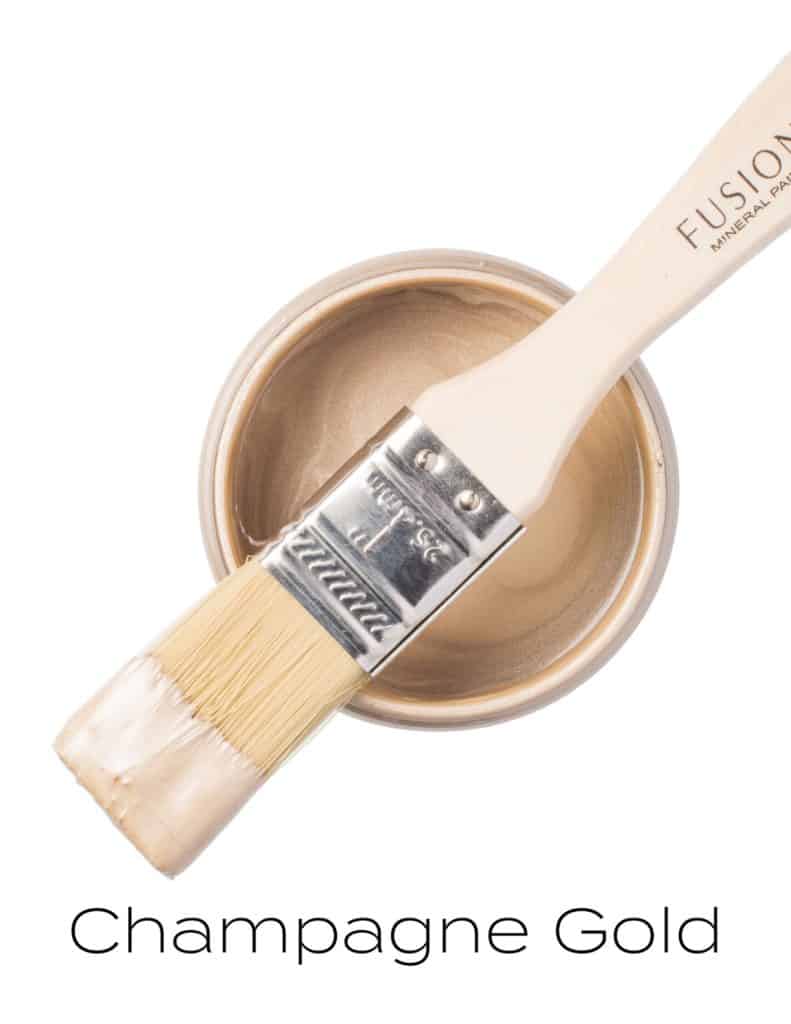 Remember, too, that you can always combine Metallic Paint with other finishes and techniques to create something truly unique. For example, you can gently age a metallic finish to replicate the patina of use. And nothing gives a traditional design that little bit of bling like a shiny metallic finish.
The paints come in the practical size of 250ml, which should give you enough coverage (about 40 square feet) for a small to medium sized piece of furniture. Following up on the popularity of their Metallic Tinting Kits, Fusion designed these paints with a self-leveling finish that works well on larger projects and is less texturized. Decorators have commented on the way that the Metallic Paint allows for smooth application without visible brushstrokes.
As with other paints from Fusion, these metallics have a built-in top coat, and they can be used on most previously painted or coated surfaces without additional priming or prep. They contain zero volatile organic compounds (VOCs), and the metallic effects are created with mica pigments made from purified, naturally occurring minerals. These pigments will give your work a distinctive iridescent finish.
Whether you want to evoke the warm golds of Victorian jewelry or the sleek silver and brushed steel of art deco and mid-century modern style, you can find the metallic effects you desire in Fusion's line of Metallic Paints.