Furniture, France, French Provincial Haven
I'm reminiscing our trip to Europe last November, and if you've just joined me, I'm on our first full day in Paris and a trip to Chateau de Versailles, about an hour outside of Paris (by train). If you missed the fact that my amazing husband whisked me away for our 25th Anniversary, completely by surprise, you'll want to check out the surprise video HERE. And my first post about the AMAZING Airbnb French Provincial apartment we stayed in HERE.
Before we head to Versailles …
I wanted to make sure you didn't miss the quick DIY video tutorial I showed on my Facebook Page last week. If you've ever passed up these old ceramic vases in op shops or charity stores, you may want to think again! This was so easy and created an instant gift idea to fill with flowers and give to a friend or to mum for Mother's Day (I hope yours was special!) Here's the tutorial:
Easy peasy Mother's Day DIY idea for you to try.

Posted by I Restore Stuff on Wednesday, May 9, 2018
Funny story about Paris Cafés
We had crashed after our looong journey from Brisbane to Melbourne, to DuBois and on to Paris – I KNOW! Days later … we arrive … exhausted.
It was late afternoon, we ate, and literally fell into bed. So next morning, Marty snuck out of the apartment while I was still sleeping, with the sweetest intensions. He wanted to surprise me with coffee and croissants. About an hour must've passed and by now I'd woken and wondered where he was. Alas, he comes back empty handed! Apparently Paris cafe's don't open until late morning!! I'm talking like 9 or 10am, you guys!
We had decided to go to Versailles and get an early start as we'd been told there was MUCH to see, and that we'd likely need an entire day to see it all. So we set off like two foreigners having no clue (thank goodness for our Waze app!) but on our way to find the train station or subway, we came across one lone opened cafe where we had our first real French espresso, and some yummy croissants!

Paris Travel Tip – Apps you might wanna download
Just thought I'd drop a tip or two here for getting around in Paris, to let you know what we did. But there are plenty of travel guides out there to help you on your way. Here are a couple of apps we found handy:
We took an Uber ride back and forth from the airport (mainly because we had luggage).
But for the most part, we took public transport, so if you're planning on doing the same you'll want to download the official Paris Metro app for navigating your way around the city. It's called RATP and you can download it here.
Another great app we were so grateful for during our entire trip was Google Translate – thanks to our son for this tip after I sent an image to our kids of 3 different types of washing products with a caption – "which one is supposed to be for clothes". Haha! There were NO picture clues, and so I couldn't tell which I was supposed to use for washing clothes, dishes or the bathroom sink! I should have taken French more seriously in high school – LOL. So my son sends me the link for the translate app and seriously – life changer. You can literally hover the camera over the product label you are wanting to read and it translates the words in REAL TIME right before your eyes! For real, even if you're not travelling, go find a product in your house that has a foreign language written on it and try it out! It came in so handy at the grocery store, restaurant menus (although many had English translations), signs, ALL the "things"!
Versailles Castle
Now to this enormous castle – I have NEVER in my life seen a palace so big. Remember we've never been to Europe, so we were like little kids exploring – and feeling more like a foreigner than we ever have in our lives too. It really puts a new perspective in your mind of how people from overseas or a different culture must feel when they come to our country, not knowing the language or the culture.
Apparently these gates were recreated in 2008 – replicas of the original gates that were destroyed many years ago. The 80 metre steel gates are finished with 100,000 gold leaves!
So much to see and take in. The architecture and details are amazing.
This painting is a portrait of the original castle and land of Versailles. It really goes on forever and the gardens outside are an art piece in themselves.
French Furniture, decor and more
I'll just take you through some of the rooms so you can drool over some of the French furniture, decor, wall art and more.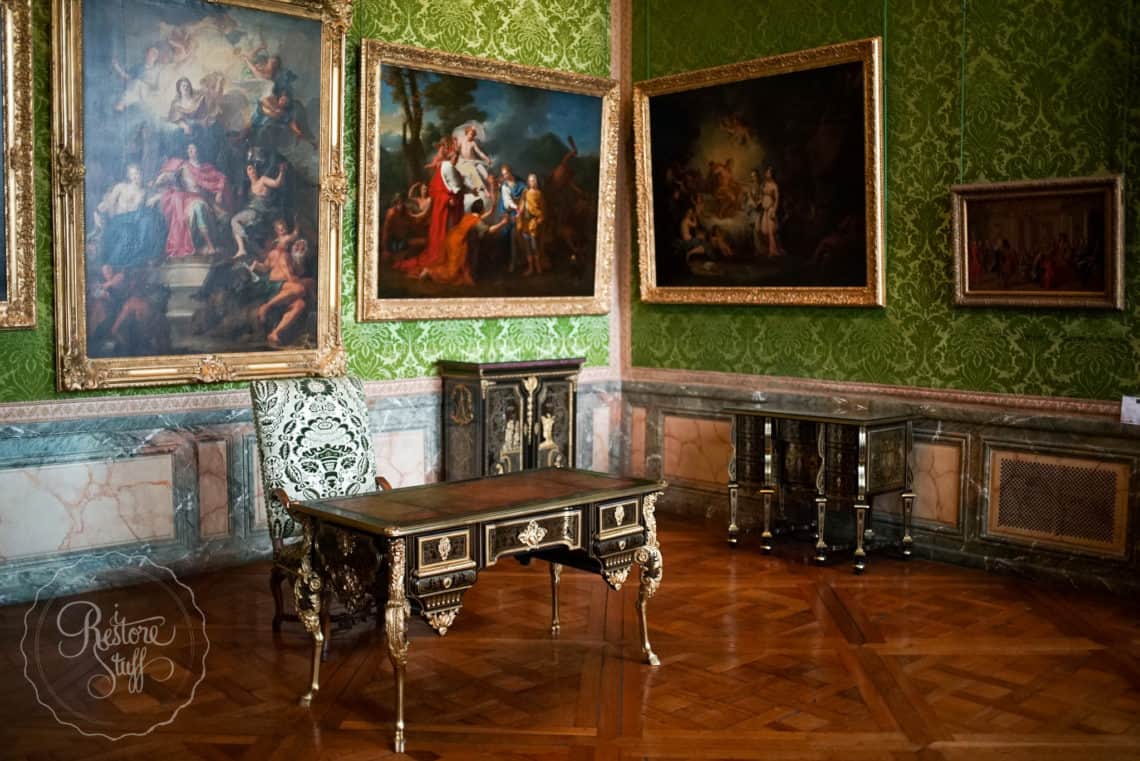 The ceilings!
Some incredibly HUGE paintings adorn these walls. So many, that you wonder what on earth they have left to display at the Louvre! We'll take a look at the Louvre in my next post.
My neck was getting a cramp just taking in the art work on these ceilings … can you even imagine actually painting this?? Or maybe they painted it on some material of some kind first and then hung it on the ceiling like wallpaper?
Another ceiling … and more gold.
So much marble and stone …
And this is only ONE of the beds in one of the rooms. Not sure which king or queen or princess this belonged to, but oh my … I could sleep well here:
Just a rug adorning the floor …
Check out the paint work and gilding on this library cabinet!
And lets not forget the chandeliers … sooo many!
I'm pretty sure one can never have too many chandeliers …
The tour entry includes a room by room explanation of what you are seeing and experiencing via their recorders that you hold up to your ear and listen to.
The front courtyard:
 Outside the back of the castle, ready to explore the estate! We were there at the end of autumn, so the gardens were still green, but not a lot of flowers going on.
 The turtles in this fountain are all gold!
 We made our way to the back section of the whole estate and after a long walk, came to yet another grand and opulent place – the Estate of Trianon.
 Look at the ornate carvings on this table base!
 Oh wow, I'm sorry for the photo overload, but there was just so much beautiful furniture to take in!
On the way back from Versailles to catch our train, we found the antique shop that we had come across on our way to the castle. I couldn't tell you the exact location, but it was on the left if you are on the main road heading towards the Versailles castle. I'll save my pics of the antique store for next time.
If you subscribe to my blog/newsletters, then you may have received an important email from me today regarding our privacy policy and conforming to the GDPR rules and regulations. This mainly affects my readers in the EU, but you may still be asked to confirm your subscription via email.
I hope you'll continue to join me as we explore the world of painted furniture, up-cycling, repurposing and all things beautiful for the home.
If you accidentally opted out of receiving any information from us, you can re-subscribe again here. By opting in to our mailing list you will receive my regular blog posts, occasional newsletters, and may receive offers of product specials and giveaway promotions from time to time (product offers mainly apply to Australian readers).
[mc4wp_form id="10438″]