Beating the Overwhelm:
We've all been there … one minute you think you have everything under control in your business, then next minute, our "to do" list is a mile long and we feel like we're just treading water – the overwhelm is REAL.
One of the things that I have learned over the years is that quite often we can make life so much easier on ourselves if we would simply hire help! Seriously, have you considered it?
There are some tasks that you are probably trying to do right now that are causing you stress, frying your brain, and if you'd just give that task to someone else, you could actually get on with your creative things that you love to do that are bringing in your income!
Other creative business owners have asked me: How do you do all the things you do in your business? Well, I've learned the secret of hiring out some of the tasks that were contributing to my overwhelm. And you know what? I've discovered the great rewards that come with delegating these tasks and at the same time, creating valuable opportunities for the people I've paid to help me.
7 Tasks You Could Hire Out:
1. Technical/Website expertise
If you struggle with the tech side of things in your business, this is a must. I started out many years ago on a free Blogspot site with Google, but graduated to a paid domain/Wordpress site with a nice theme. I had no idea what I was doing at the time, so I hired my tech savvy nephew, Jake, to build my site, get it up and running and to teach me the basics so that I could eventually add product, add blog posts, and all of the things! It was so much easier AND quicker than trying to figure it all out myself.
Another technical area you can get help with is automation: i.e. setting up your email systems, organising landing pages & opt-in forms, setting up auto payments for ecommerce, automating membership sites, and basically anything that will assist your workflow to become more automated. Many of these things can be done by a V.A. (see number 3), or possibly a website developer, but when you can find a business like The Automation Girl, who specialise in exactly that, you can get a whole lot of systems in place at once for your business.
2. Logo Design/Branding/Graphic Design
If you are ready to get a bit more professional in the whole presentation of your business, this is something you may want to hire help for. You can have a logo designed for a small fee on a site like Fivver.com or you could hire a professional graphic designer like my daughter, Amber, (proud Mum plug!) or my friend Megan from Happy Splat Designs (below).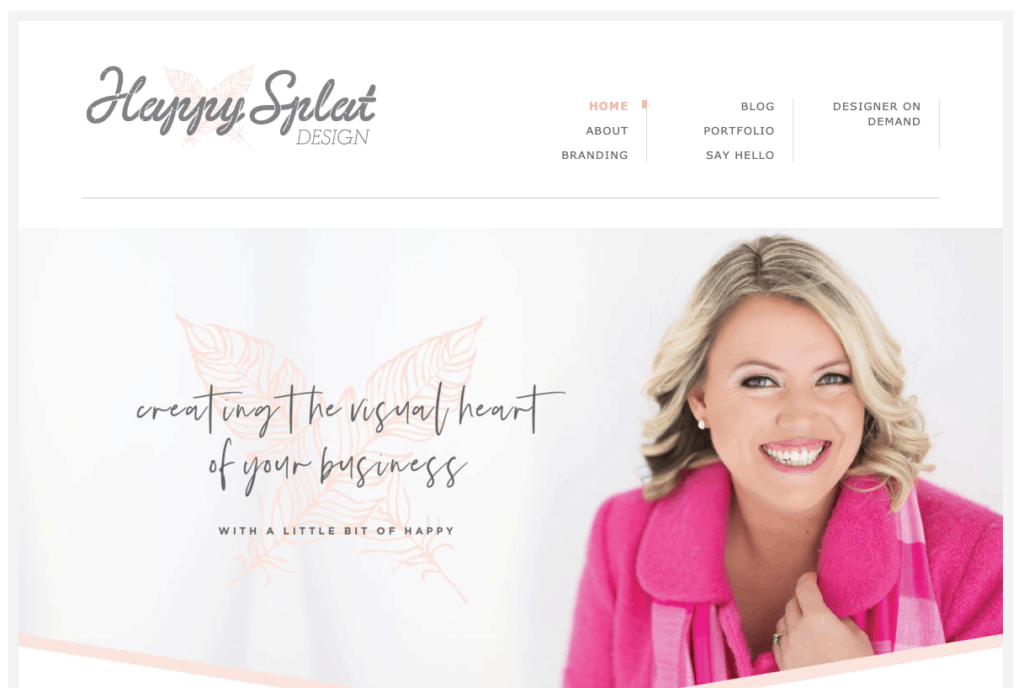 3. Virtual Assistance
A V.A. (Virtual Assistant) can be a valuable asset to your small business! The role is usually made up of digitally based tasks that you could easily give to someone else to do. Most virtual assistants will list the tasks or programs/apps they are most familiar with so that you can choose your assistant according to the areas you most need. I've just recently hired my talented niece to do some of my social media tasks, especially my Pinterest boards using Tailwind. This has greatly helped boost my blog traffic via Pinterest, as well as freed up valuable time for me in the "office", to get on with more fun stuff – like painting furniture! A shameless plug here for Stefanie's beautiful work if you'd like to check out her site – she's actually offering some beautiful Canva templates for Pinterest at the moment! (below)
Here are just a few examples of tasks you can get done by a V.A:
social media posts,
creating graphics & flyers,
typing up articles & blog posts, editing,
creating e-books,
scheduling.
filtering emails & answering some.
4. Bookkeeping
If this is an area that you find yourself either bogged down in, or it's beyond your expertise, hire help now. I've done our own bookkeeping in both my husband & my businesses for the last 25 years. Things have certainly changed in the area of bookkeeping and record keeping in that time! So firstly, if you haven't moved to the digital era of online accounting software like Xero or MYOB, do yourself a favour and get onto it. These systems, along with their apps for mobile devices, allow you to do your bookkeeping anywhere in the world where there's internet. I haven't had to physically visit our accountant for the last few years, since they have access to all our records online, making the whole system more streamlined. But again, if this is even sounding too much for you, find a bookkeeper who can get you started, teach you the basics of record keeping and keep you up to speed with your business financials – it's just good business.
5. Workshop Assistance
What are some practical things in your creative business that you could do with an extra hand? For me, it was things like: sanding; prepping furniture; sorting stock; tidying the workshop; receiving and putting away wholesale orders. I hired my best friend's son, Eric for the last 2.5 years. He was homeschooling at the time, and came for 4 hours on a Tuesday to help with anything I needed him to do in my workshop. What students do you know that might be keen for some part time work on the weekend?
6. Online orders/Shipping
Do you sell product online? Having customer orders come in at all sorts of hours, can become overwhelming if you don't have a system in place. Is it possible for you to pay someone to come in and pack orders one day a week and make it your "shipping day"? If your orders come in via email, flag them or print them right away, set them aside for your designated shipping days or times. Make sure you let customers know about your shipping days on your website in your Shipping policy so that customer expectations are clear. You could also have your assistant unpack and price your wholesale orders that come in, arranging them on your shelving or storage space.
7. Shop Assistance
Do you operate an Antique booth like I do, or perhaps a shop space of your own, or do you regularly have a market stall? Having someone assist you with re-stocking shelves, pricing merchandise, tidying or re-arranging your space, can make your work so much easier and more efficient. If you are doing markets, you could hire help and have someone assist you during set up and pack down can greatly reduce the time taken to get everything in order and ready for the next market stall.
What do you think?
I hope you have found this list helpful and that it at least has you thinking of ways that you could save yourself both time and money in the long run by getting some extra help.
Work smarter – not harder! This is a great key to moving forward in your business and seeing it grow. What areas can you think of that you might be able to hire help and ask for assistance? Set yourself a goal to make it happen this year!
Don't forget, I do offer one-on-one mentoring sessions if you think this is an area that you might need help with. Book in here: