I first came across The Mercantile, via Instagram, after following one of their beautiful vendors, Kim, from In Sweet Time, NC (@insweettimenc on Instagram). When I knew we were going to be in North Carolina visiting family last month, I checked in with my S.I.L. if we could make a trip to meet Kim and see the store where she has a lot of her pretty pieces!
I was so excited to meet both Kim (In Sweet Time) and store owner, Jenny (The Mercantile) in person!
Kim has been a Miss Mustard Seed's Milk Paint retailer for a number of years and in fact, if you're a MMS fan, you may remember Marian Parsons took a trip to visit family late last year and stopped in at Kim's booth to hold a MMS Milk Paint demo along with a meet & greet. Here's what Marian wrote about her visit to The Mercantile.
In Sweet Time, NC
Kim's booth, "In Sweet Time" is just beautiful and filled with treasures that I could have easily filled a shipping container with and whisked back home with me – in fact, the whole Mercantile itself has such a lovely cohesive look to it. The store owner, Jenny has done a fabulous job of communicating her vision for an aesthetically pleasing vintage store, to her vendors! It ticks all the right boxes for a beautiful collection of vintage furniture & homewares to suit farmhouse, industrial & cottage styles.
It was so fun to chat to Kim and talk about our common love of Miss Mustard Seed's Milk Paint and all things vintage home decor!
The Mercantile
Here's a little tour of some of the beautiful things we saw in The Mercantile, Knightdale, North Carolina.
I love this metal bucket collection, for example!
Filing card drawers always seem to get my attention!
A perfect statement piece of wall art to capture your gaze as you walk in the store!
I'm sure I could find a place to hang one of these in my house. Rusty metal farmhouse decor on a large scale here.
I'm sure your imagination will go wild with ideas for this collection of doors, windows and other hangable things.
There is plenty of natural beauty among the rugged and the rustic.
I love this idea below, of putting a rustic wooden frame in this antique roller skate for display.
These antique sleds would be such a rare find in Australia where we hardly see any snow, especially where I live in Queensland. To see so many in one shop was kinda out-of-the-ordinary for me.
Workspace at The Mercantile
Off to one side of The Mercantile, is a workshop space where Jenny and her helper can paint away the hours while the store is quiet. I loved the fact that we could watch her work while we browsed the store, seeing some of the pieces she was working on.
I hope you enjoyed this little taste of The Mercantile, and if you're ever in North Carolina, it's a fantastic place to visit and find a unique piece or two for your home.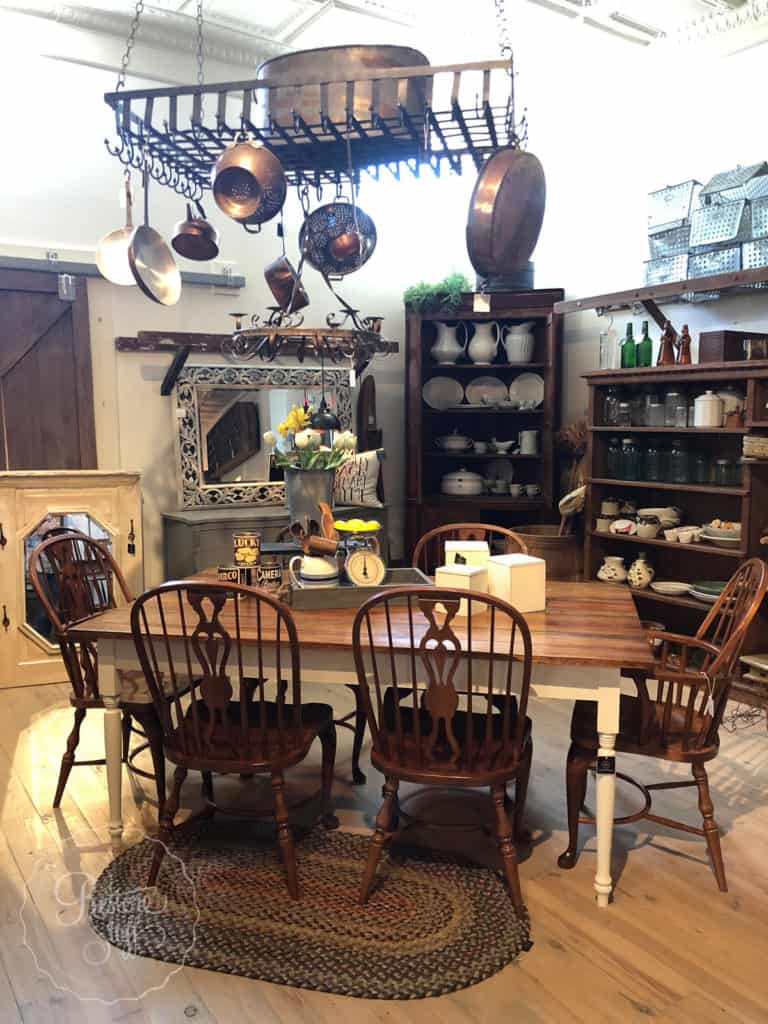 I was so blessed by these beautiful ladies who gifted me with these. Kim handed me a signed copy of Miss Mustard Seed's book, Inspired you, and Jenny wanted me to have my very first piece of Ironstone! This pitcher is large and heavy … but it safely made its way carefully wrapped in my carry on suitcase, several flights all the way back home.
I can't wait to find the perfect place for it in my home & fill it with flowers or other pretty things, reminding me of our trip to The Mercantile.
Upcoming Workshop:
I also wanted to remind you about our upcoming workshop if you are in the Brisbane, QLD area!
A great idea for Mother's Day gift – grab your mum and book in to our 25th May 2019 workshop! Click here for all the details:
For other workshops and product updates, get yourself on our email list to be notified when new workshops or products are added:
I'd love to hear about your favourite antique store finds! Let me know in the comments below: