You don't have to look very far to find home decor following the copper trend that has been emerging since 2014. Target and other department stores are even getting in on the latest in metallic home decor items. Just pull up a Pinterest search and you'll find a myriad of great ideas to add some bling to your home! You don't even have to go to any of these stores if you want to do a bit of diying. You could learn how to cut copper yourself so that you can design your home however you wanted. It's easy really. This might not be for you though, which is why more people just buy their decor.
If, however, buying more decor is a little out of your budget this season, here are two simple ways you can re-vamp or up-cycle some items in your home using the metallic range of tints and gilding pastes available here at I Restore Stuff in our product tab.
Project #1
I started with this wire pencil holder I had bought from Typo a while ago. But you could use any wire basket.
Here's the copper tint from Fusion Mineral Paint range of metallics: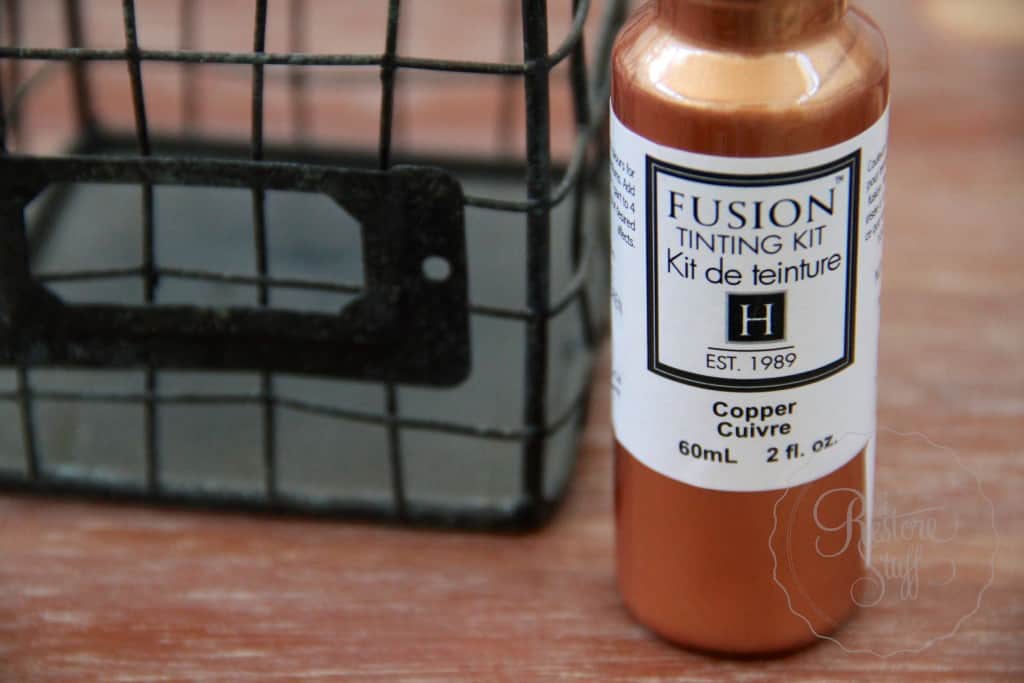 These tints are also available in Gold, Bronze, Pearl and Silver.
Fusion™ Tints are water based, highly pigmented iridescent colours used for tinting other Fusion™ Products. These tints can be mixed with Fusion™ Sand Stone and Smooth Embossing Paste to produce beautiful textured finishes. Fusion™ Tinting Kit may also be used straight from the bottle for stencilling, murals, and floorcloths.
Before I show you my second project, let me just show you how easy this paint is to wash out in water:
Above, I've just rinsed out the metallic paint. Below, I brushed over a block of MMSMP Brush Soap:
Rubbed the soap through the brush in a dish or on the palm of your hand:
Look at the result! The brush soap is great for protecting your natural bristle brushes and actually conditions them.
Project #2
For this idea, I started with a $6 frame from Target. These have a lovely double matte, which adds to the beauty and simplicity of the white frame.
I used a stencil I had from a pack of small stencils from Typo; and some copper tint from our Fusion Mineral Paint line. I only needed a small amount.
I had this canvas paper at home already, but you can buy it from office stores. It runs through your printer and comes in A4 size in a pack. Looks like art on canvas when you print on it.
When I finished the stencil, as you can see below, the wet paint caused the canvas to crinkle a little, so I carefully set the iron to medium and placed a t-towel over the DRY printed paint surface, so the iron wouldn't stick, and the image on the right (below) shows how nicely it came out after ironing.
Here is the print in the frame with just the plain copper feathers. Simple, minimalist and adds a touch of metallic to your home decor.
Here's another frame that I had already painted and distressed. I picked an inspirational verse, laid it out in Photoshop (you could probably do similar in a Word program), and ran the feather canvas through the printer.
Note: I did have to touch up the lettering where it went over the copper ink, as I only have an inkjet printer at home, and the copper resisted the ink, making those areas very pale. I touched up with a Sharpie marker, then cut the page to the frame size.

There you go, two easy projects to get you started. As I mentioned, we also have other metallic tints available: Gold, Bronze, Pearl and Silver. One bottle (60ml) is $22AUD and goes a long way. We ship Australia wide. Another trend to look into is Internal glazed doors, which allow light to filter through your home.
Happy painting everyone!
Sharon.