This post is kinda BIG in a way – as in, BIG NEWS kind of way!
We've just launched a super new product AND I have some fun news about America's biggest DIY Network – HOMETALK. Eek!
But more about that later …
[Edit: I've added the Hometalk Live video demo at the end of this post]
Introducing FRESCO
I love new things to play with, especially of the furniture painting variety, so when Fusion Mineral Paint introduced their new texturising medium, Fresco,  I couldn't wait to try it out.
(I am a retailer for Fusion Mineral Paint in Australia, and have added Fresco to our online store. You'll find it under the Textures in Fusion Mineral Paint product tab.)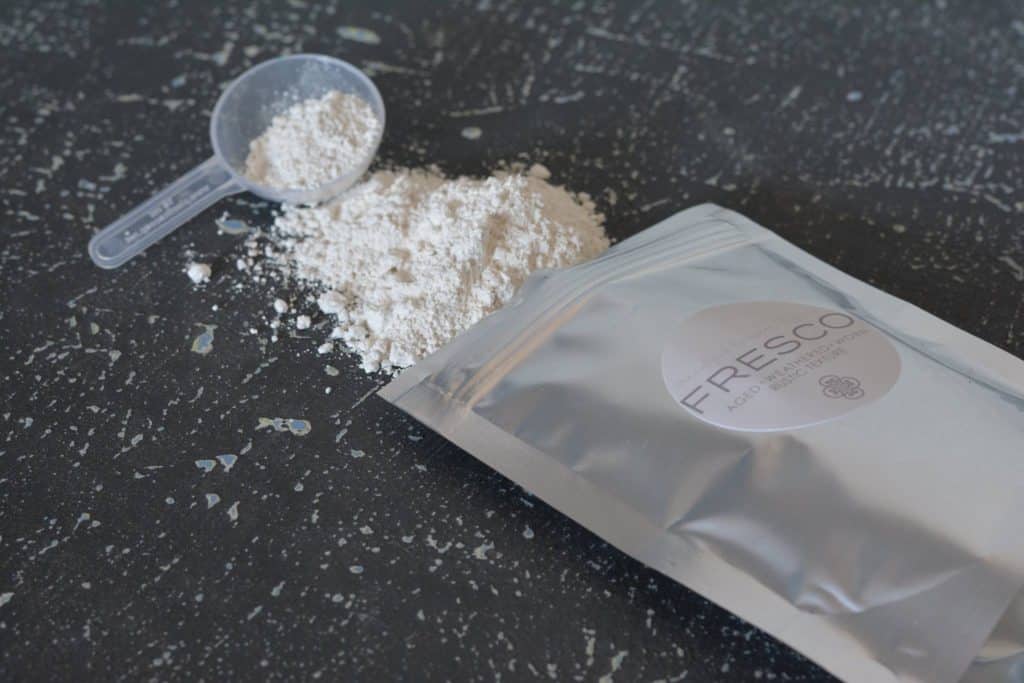 Look at the yummy texture and crackle here that just screams "perfect aged patina"!
Enter the "Speaker Stands" …
I decided to have a play with the Fresco on these old wooden stands that my husband originally made for his studio speakers (he's a video/audio engineer). They had been replaced for a while now and sitting in my "pile" for a greater purpose!
And that greater purpose will be some plant stands. So I bought these pots to go with the plant stands, and we'll make them look funky too!
Prep is good, no matter what the surface.
They're ordinary plastic pots, so before I painted them, I wanted to scratch up the surface to give the paint more grip. I used my SandiHands Sanding glove to do this.
Mixing Fresco with Fusion Mineral Paint
Mix 1 part Fresco to 2 parts Fusion Mineral Paint.
Mix with a wire mini whisk or a stirring stick.
Don't mix thoroughly as the lumps are all part of the textured look and are desirable.
I used one of the Fusion 2″ Brushes, but you can use any brush. I prefer to use one that is not "precious" for this technique.
Stippling & Texturing
Apply the Fresco & Paint mixture to your project using the brush in a stippling, textured effect. You can brush in different directions for added textural interest:
Plastic pot painted in Fresco/Fusion Mineral Paint mix
I then mixed up some Fresco with Fusion Mineral Paint colour, Limestone.
Note the Note:
Note: you do not need to mix Fresco in with more than the first layer of the paint. I decided to, simply because I didn't feel the gray I mixed had enough texture for what I was wanting. The reason being, I may have over mixed the Fresco/paint mix. This time, I left more lumps.
I glopped this new Fresco mix onto the surfaces of both the pots and the stands. 
And painted it on with a stippling motion.
When the paint/Fresco mix has dried slightly, but still moveable, I dragged a clean paint brush over the high points, knocking them down a bit and creating more texture with the dragging motion.
Want some more Crackle?
I used a hairdryer to help create some lovely crackle to add to the effect!
Just add Paint!
For the final step in transforming my pots from plain boring plastic faux terra cotta, I used Fusion's colour Upper Canada Green to paint straight over the top of the Fresco layers. No Fresco was added in this layer.

For the final layer of Fusion paint on the Speaker/Plant stands, I used the colour Pebble from the Penney & Co designer collection of Fusion Mineral paint. It's the perfect greige – a soft gray with undertones of tan.
Using a wet sanding method and my SandiHands Sanding glove, I wet sanded both the pot surfaces and the stand.
Here's the result, a lovely aged, sea-swept look showing layers of the Old World it has lived through.
Sanding the plant stands had a similar effect, whisking away the top layer of Pebble colour in the high points, revealing the white raised Fresco areas and the darker gray in areas where I sanded more heavily.
You can see below, on the corner of the stand, the left has not been sanded, the right side has.

Oh … and my Hometalk news?
I'm super excited that I have been asked to join Hometalk on their Facebook Live segment sharing this very project and how I completed it, including a demo on that missing speaker stand that you don't see in any of these final pics. I'm saving that stand for the Hometalk Facebook Live, so I hope you'll join me.
We're scheduled to shoot the live segment on September 15th 7pm EST (for my USA/Canadian friends), which will be September 16th at 9am AEST (for my Aussie friends). See you there – you'll be able to join the live comment feed, so bring your questions if you have any!
Edit: Here's the video demo as seen LIVE on Hometalk's Facebook page: