More of our Anniversary Surprise European Getaway
Visiting the Louvre
Our second day in Paris, France and we decided to venture out early on Sunday morning to see how fast we could get through seeing the Louvre! I'm told you could spend days in this place, and by the enormity of the buildings that surrounded this monumental pyramid that protrudes from the ground at the entry, we knew THAT was the truth! This place is huge.
Now if you missed the first part of our Anniversary surprise posts, you can start HERE where I totally flipped out when my husband announced we were flying to Paris in three hours!
After a few fun selfies … we headed for about the only painting we actually knew was in the Louvre – The Mona Lisa. Oh and a bonus for us – the day that we went, happened to be their one Sunday a month that entry is FREE! Yay us – and the line was not even that big (we went early). So if you're looking to go, check out if there is a free day.
The Mona Lisa … is so small!
We are so NOT art nerds, but we do know that if you're going to The Louvre, you probably need to see the Mona Lisa. But, hey, everyone else thinks they need to see Mona Lisa too, so this little room got crowded pretty quickly. And she's behind a pane of secure glass …
Aside from that, the rest of the paintings in this wing were amazing – some totally HUGE. And the FRAMES!! Oh wow, just feast your eyes on some of these.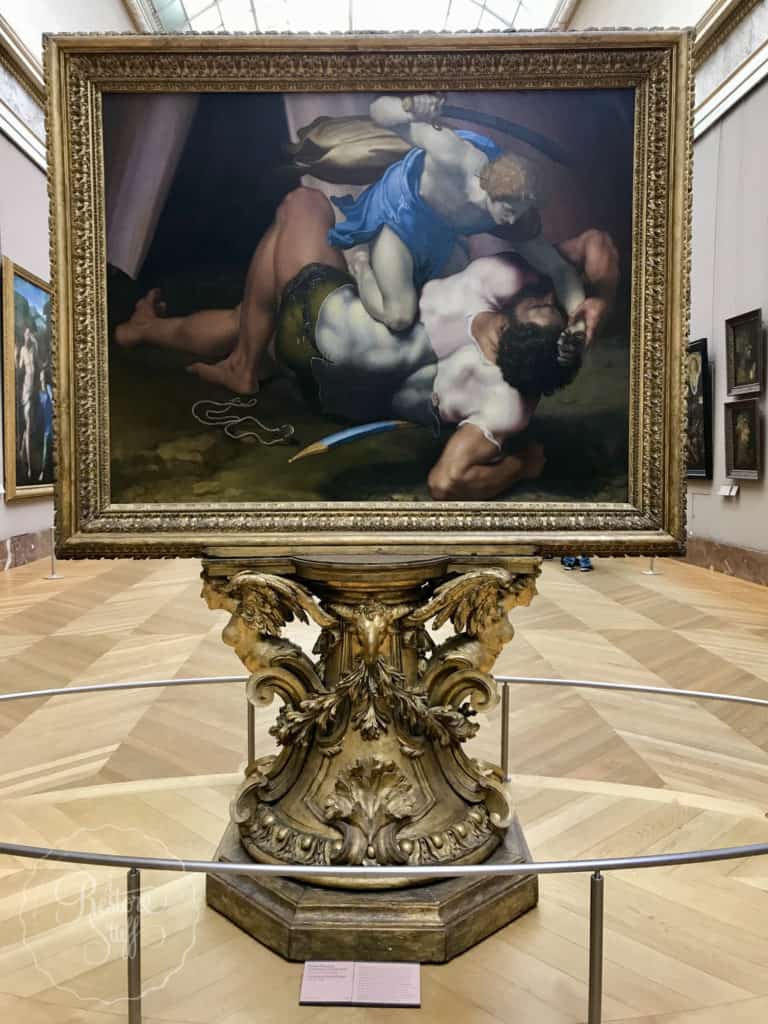 And let's just take a look at a couple of the ceilings …
How Much Furniture Can there Possibly Be?
We were wandering around the Louvre enjoying all the artwork, and then suddenly, we'd entered a whole WING, it seemed, dedicated to the furniture of past royalty and nobility of France! From Marie Antoinette, King Louis, and Napoleon, there were rooms and rooms of beautiful French pieces!
Check out these walls …

I love the teal and turquoise tones in this room!
There she is – Marie Antoinette herself – well, in the form of a bust, anyway.
And these were just a few of her trinket boxes for her jewellery or little bits and bobs she might want to treasure!
I do believe this is marble on top of this chest! I love the colours in it, don't you?
Another whole section contained furniture with the most ornate carvings. Incredible detail.
And this DOOR!!
N – for Napoleon.
Hello there – just me peeking in the mirror of this dressing table in Napoleon's apartment wing – made of glass and gold!! Look at those legs!
Here's a closer look!
A baby cradle made out of wood! The fabric looks like silk.
And lets take a moment to appreciate the fine tapestry on the upholstery!!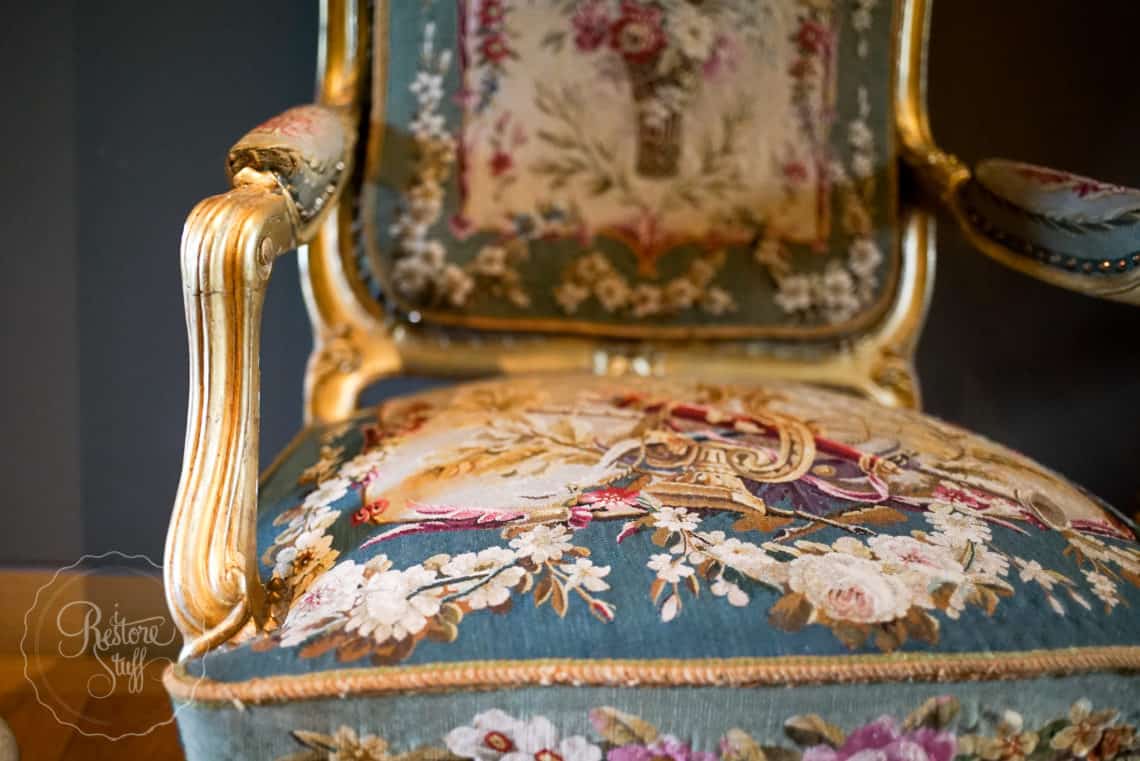 Not to mention the tapestries on the WALLS – just humongous! (sorry this pic is a little grainy – was a dark room and this was an iphone pic)
Can you imagine catering and serving in this elaborate dining room belonging to Napoleon?
We hadn't intended to stay long at the Louvre, but it was so worth it to see all that we saw!
We did get finished around lunch time and had plenty of time to get to our next destination at the Basilica we'd been told about that was well worth a look at night or on dusk!