It's been a couple of weeks between posts but I'm glad you're all here. Let me say a big warm Aussie welcome to any new followers of my blog. I know there are several of you that have subscribed since I've been doing Hometalk's Live DIY's on their Facebook page.
This week, I'm showing you a couple of coffee table makeovers I have done lately and a little of what I have been up to in the workshop!
Coffee Table No. 1

I love these fairly simple makeovers and this one we coated in Fusion's Concealer first, which helps conceal the dark wood when going to a lighter colour. Concealer is not a stain blocker, but at half the price of the 500ml Fusion jars, it saves on your good paint and you'll need far less coats of the top coat colour.
Next up, painting with this lovely new greige with green tones – Lichen. In the Penney & Co. collection of Fusion Mineral Paint's colours.
The first coat has great coverage!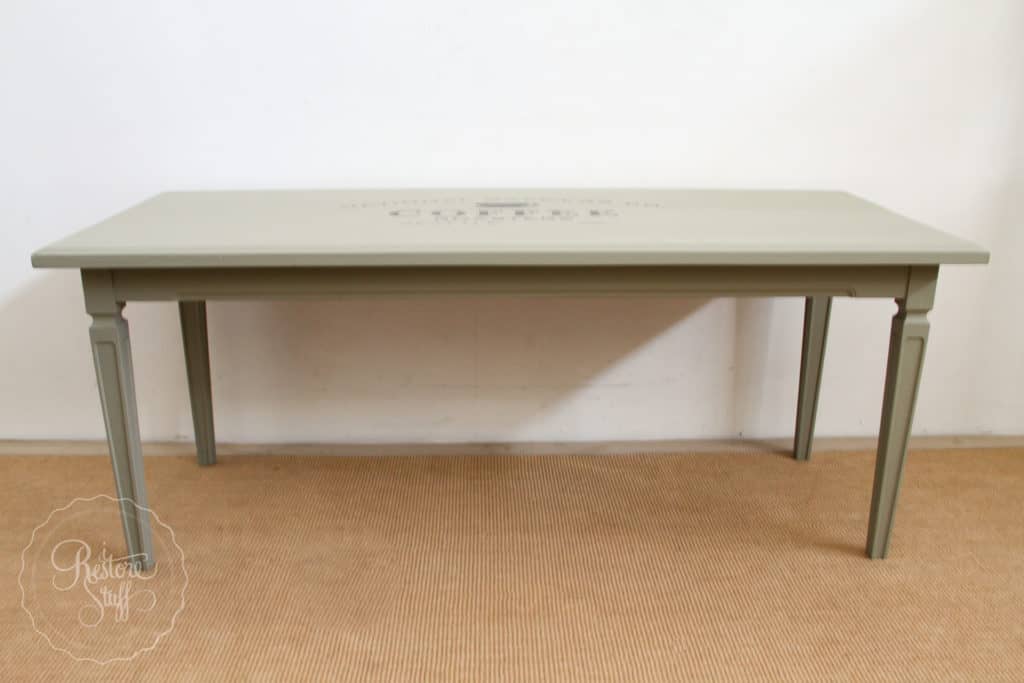 I added one of the Funky Junk Old Sign Stencils on in the colour, Ash – a gorgeous dark gray.
Coffee Table #2
This one I painted in Fusion's new colour, Brook from the Penney & Co. collection.
And that stencil the runs along the top, is one of the new Miss Mustard Seed's Milk Paint hand brushed stencils, called Nancy painted with Raw Silk, a nice creamy white.
A work in progress:
I found these beautiful chairs on our local Facebook Marketplace and they are in quite good condition for their age. I was tossing up whether to keep the upholstery, paint it, or remove it all together. Well, I really didn't like the green velvet, so removing the upholstery won out in the end.

And here's the first little lady ready for her makeover in my workshop!
I'll keep you posted on these chairs and how they turn out, but what would you do with these if they came to live at your house?
Would you paint them? What colour? What upholstery fabric would you use?
Leave your comments below, I'd love to hear from you and what you've been painting lately.
You can also join me at any of my social media platforms at the top or bottom of this page.