Kmart DIY Hacks
I have not ONE – but TWO Kmart DIY hacks to share with you today.
A hack using some cool hairpin legs for a table, and then stay tuned for a fabulous Christmas hack on a $5 tree!! Yes – I totally went against all votes NOT to buy this tree when I polled my Instagram followers – haha. But wait till you see how it turned out!
Kmart DIY Hacks – 1 – Hairpin Legs Table
For this first hack, I had actually found these cute little side tables at our local Kmart here in Australia a while ago. They come unassembled and are a pretty basic laminate circle top with hairpin legs – HAIRPIN LEGS! Now, you realise that hairpin legs are not easy or cheap to come by? And this table pack was pretty cheap – somewhere around $10-12 if I remember correctly. (This is not a sponsored post for Kmart BTW)
So being the thrifty DIY'er that I am, I wondered how I could use those hairpin legs for other projects …
And this old worn table top came into my possession via a friend who was helping her parents move from their family home. Her dad was a carpenter/framer in his prime and had several pieces of old wood, so I picked up several pieces that I thought I could use for future projects. 
It looked like it had some parquetry veneer on the top at some stage. I had my worker, Eric, sand it down for me, and then I used Fusion's SFO (Stain & Finishing Oil) in White, to create a white-wash over the whole table.
I then attached the hairpin legs out of the box from the Kmart table, and voila – a whole new round coffee table!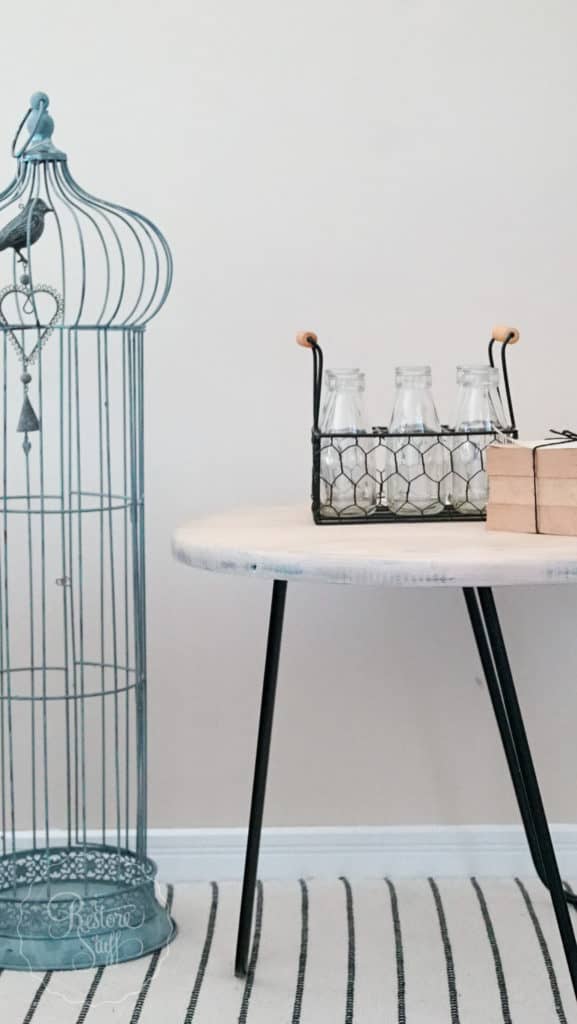 Now I have a solid wood table and it looks sort of Scandinavian or Farmhouse a bit don't you think?
Kmart DIY Hacks – 2 – The $5 Christmas Tree!
Okay, you'll love this next activity, and if you saw my Instagram stories, you'll have seen some of my process which I totally borrowed from Natalie of My Vintage Porch. I've been following her on Instagram and she's a crack up in her stories, so if you love Instagram, check her out HERE.
I polled my Instagram followers while in our local Kmart last week because I found this $5 tree in a box … and let me just say, for $5, I was doubtful about using it as a tree in my house too. And the poll results came in as a majority "NO – do NOT buy the tree" … but my creative juices were itching to try this hack, so I bought it anyway, hehee.
In Natalie's post at My Vintage Porch, she used what she had on hand … which also happened to be what I had on hand – minus the spray can of paint. But since I have lots of paint on hand, I just used Fusion's Casement white for the first part.
Here's my Kmart DIY Hacks supply list:
(some are affiliate links)
I had a lot of fun doing this project, and you can click on the image or link below to visit my Instagram highlights where I take you through the process:
Instagram Highlight $5 Tree Hack
OR, you can check out Natalie's awesome post HERE.
Look at her cute little flocked trees:
And … Here's exactly how my little tree turned out:
Here it is by itself in a faux metal bucket that I painted. Keep scrolling to see how I created that look!
Bonus – How I made the Faux Metal Bucket
This was another of my op shop (thrift store/charity store) finds. I've started doing stories on Instagram about my op shop adventures and some of the treasures I'm finding as I go. This started out as a wooden (bamboo I think) oval container which probably had a lid at some stage:
I painted it in a base coat of Miss Mustard Seed's Milk Paint, in the colour, Typewriter (a charcoal black)
Then I used carbon paper (graphite paper) to trace our last name onto the base
I lightly sanded the white paint after it had dried thoroughly (I used a white gel pen to outline, then filled in with Fusion's Casement using a tiny artist brush.
Next step I used one of our latest products in – the new Zinc Wax by Miss Mustard Seed's Milk Paint:
See on the left is the unwaxed Typewriter colour (when dried, Typewriter has a chalky appearance, then turns more black as you add a finishing coat of Tough Coat sealer, wax or Hemp Oil). And on the right, I've brushed on the Zinc Wax in a random manner – I like how it becomes like brushed steel as the light hits it. It's not too shimmery, but enough to give it an aged gun metal patina.
Totally love how it all turned out!
Well, I hope you enjoyed these Kmart hacks and I hope it inspired you to think outside the box when you look around at what is available to you. I love finding things that don't cost a lot, but end up looking a million bucks!
Jump on over to Instagram to see my stories there and you'll find this tree hack in my Highlights under "$5 Tree Hack".
Don't forget to save this to your Pinterest board (you can follow me on Pinterest HERE).