My "Favourite Things" list:
I get asked questions occasionally about the tools and various items that I use in my business, and there's a long list of "things" that keep "I Restore Stuff" rolling. However, here are some of my favourite that I'd probably consider my staple items for what I do.
(*Some of these items contain affiliate links so that you can find where to purchase them if you so choose. All opinions are my own and I only share about things that I truly do love and have tried and tested.)
Furniture Prep:
Sanding – 
I have already put together a blog post about the different types of sanding options that I use, which you can read in more detail here: 
How to Choose a Sander for Your Furniture Project
. But one of "my favourite things" in this category is the 
Sandi Hands Sanding Glove
. They come in a variety of types and sizes, from the Ladies Cotton glove (pictured below) to the more sturdy Tradesperson glove. So easy to use – hand shaped sanding grits of various sizes stick to the gloves via velcro which can easily be changed out as you require a finer grit for each project.
Unfortunately these are not available worldwide, but you can find them in Australia
HERE
, or in the UK/Europe
HERE
.
Stain Blocker
– This problem comes up a LOT in furniture painting forums. What to do about the dreaded "bleed through" – ie. when tannins from the wood or underlying surface start to bleed through your newly painted surface, often in a pink or yellow tone. Especially noticeable coming through light or white colours. I shared a post about how I dealt with bleedthrough as well as "resist" (where the paint tends to bead over your surface that you are trying to paint on) while working on
this old wardrobe
. You can read about it
HERE
.
To combat this issue, about the only product I have found to be truly successful in preventing bleedthrough occurring through your subsequent layers of paint, is
Zinsser BIN Stain Blocker
. It's something I always have on hand in my workshop!
I use this white one (above) as an undercoat for troublesome pieces, and that way, I can tell if the bleedthrough is still occurring. You can use the clear shellac version also, which might be good for darker pieces, but as I said, I find the white version shows up the bleedthrough better. However, I only tend to use the Zinsser BIN if I already notice bleedthrough beginning to occur after I paint. It doesn't happen often enough for me to warrant using it each and every time I paint something.
Ultra-Grip
– this product is by Fusion Mineral Paint and is brilliant for using on high gloss surfaces that would normally resist your average furniture paints, like some metal surfaces, high gloss, laminate, glass and so on. Ultra Grip is painted on or rolled on with a microfibre roller, and dries clear. It is best applied thin and sparingly to avoid brush stroke texture showing through to your paint layer.
Furniture Painting:
A good brush!
– It didn't take me long to figure out that in this trade, the tools you use make a BIG difference to the outcome of your painted piece, and a good paint brush is no exception. I remember using brushes from the hardware store, and other small chip brushes. But then I tried my first
Cling On! Brush
– oh, my. It was like chalk and cheese, really. I had already painted the first coat on a single bed, when I remembered I'd ordered and received my
Cling On! brush
. So I quickly went to find it. I was using chalk paint for this project and noted that the info that I was given about these particular brushes stated that you dip the brush in water first, then flick the water off so that the bristles are damp, not too wet. I dipped it in my pot of Chalk Paint and away I went – literally painted the bed in half the time I had taken on the first coat and with such ease, gliding across the surface. The filaments are so soft and tapered, and the best part about them is that they pretty much clean themselves after rinsing the excess paint off with water, standing the tips of the bristles in water, all the paint comes off and falls to the bottom of your container of water within an hour or so.
Good Quality Paint
– If you've been following my blog any length of time, you'll know that I'm also a retailer in Australia for a couple of paint brands. I honestly wouldn't sell them if I didn't think they were awesome – Haha!
Miss Mustard Seed's Milk Paint
was one of the first specialty furniture paints I began using even before it was brought into Australia. I love the old world, worn and chippy patina you can achieve with it, and the fact that it is made up of only 5 ingredients, is eco-friendly, VOC free and I could go on! You can use the search bar at the top of my website, type in Miss Mustard Seed's Milk Paint and see a range of makeovers and tutorials I have posted about on using this lovely, natural paint product. It comes in a powdered form, and mixed with water, it's as easy as grabbing a paint brush and painting as normal.
Fusion Mineral Paint
is an acrylic water based paint made by the same parent company that Miss Mustard Seed's Milk Paint is made by – Homestead House Paint Company. They pride themselves in providing products that are environmentally safe, non-toxic and top quality. For more about Fusion, visit their website
here
.
Finishes:
Glazes
– there are a range of finishes on the market now, and so many different ways to enhance your painted furniture pieces. Glazing is one of my favourite things I've learned how to do. If I was to be really picky, I wouldn't put "glazes" into the "finishes" category, but more like a "bling" or "effects" category. But I'm really enjoying the results you can get using
Antiquing Glaze
or especially a
Clear Glaze
(which you can add ANY colour to, including metallic paint). You can see how I created the look on the above coffee table
HERE
.
Metallic Waxes
– Gah! So many beautiful waxes out there now … and more coming – like
Fusion's metallic waxes
being added to our online store (for our Aussie readers, or find your nearest retailer on the Fusionmineralpaint.com website). I've listed them in my favourite things, not because I've used them yet, as they are only brand new to me, but because I can tell already they are going to be a favourite! LOL. These can add the most amazing glamour to a pretty ordinary painted piece of furniture. Used sparingly, the metallic waxes are applied similar to other waxes, then wiped and buffed to a shimmery sheen.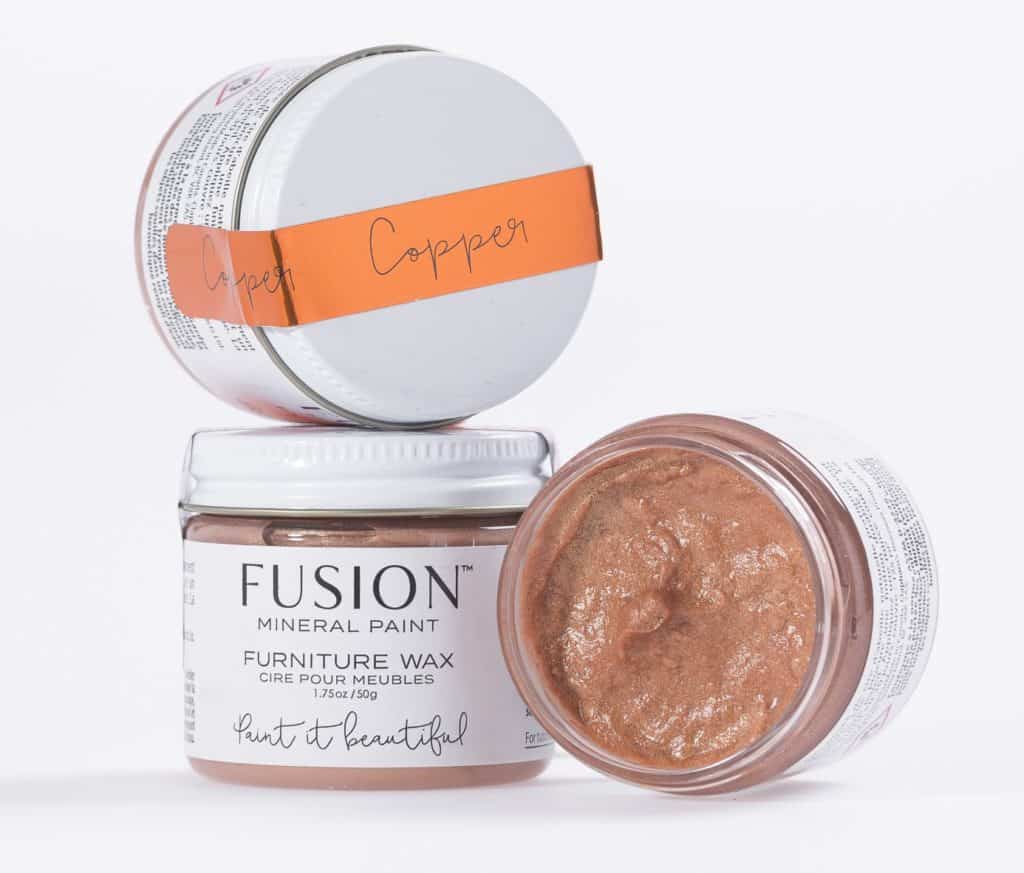 I look forward to sharing some more of my "Favourite Things" posts soon. Are you a blogger? or a vlogger? or are you growing your social media business pages? Stay tuned for my Favourite Things list on all things technology and videography! Post any questions you have about video gear, social media apps or plugins below and I'll do my best to answer them in future posts? Or, feel free to email me at sharon@i-restorestuff.com Happy Painting everyone!
Need Help with your Creative Business?
Why not book in for a one-on-one workshop or "pick my brain" session where we can talk about your business needs. I'd love to help you with any of the topics I cover in the description of my one-on-one
WORKSHOP
link. [click the image below for more info]